Control Panel V8-20
_
Easy installation, intuitive setting and usage, flexible performance: Venitem control panels allow customized security solutions.
_
TECHNICAL INFORMATION
8 basic zones

Possibility to expand the basic zones up to 20, in wired or wireless mode (868 Mhz)

2 dedicated outputs for outdoor and indoor sounder

2 solid-state relay outputs (max current 100 mA), freely programmable

Possibility to expand the basic outputs up to max 8 using a 2-relay accessory or a 4-relay BUS expansion

Integrated GSM (standard feature)

Possibility to add a PSTN dialer

13.8 Vdc 1.3 A power supply able to work even in very humid environments thanks to the special treatment in vacuum resin

Pre-punching to seat all Venitem boards

Spirit level (standard feature)
ALARM SYSTEM MANAGEMENT
The alarm control panel can be managed using the dedicated APP as well as through vocal telemanagement and SMS. Arming and disarming (even of parts of the alarm system) and managing the 8 outputs becomes easy and fast.
_
TWO-WAY 868 MHZ WIRELESS EXPANSION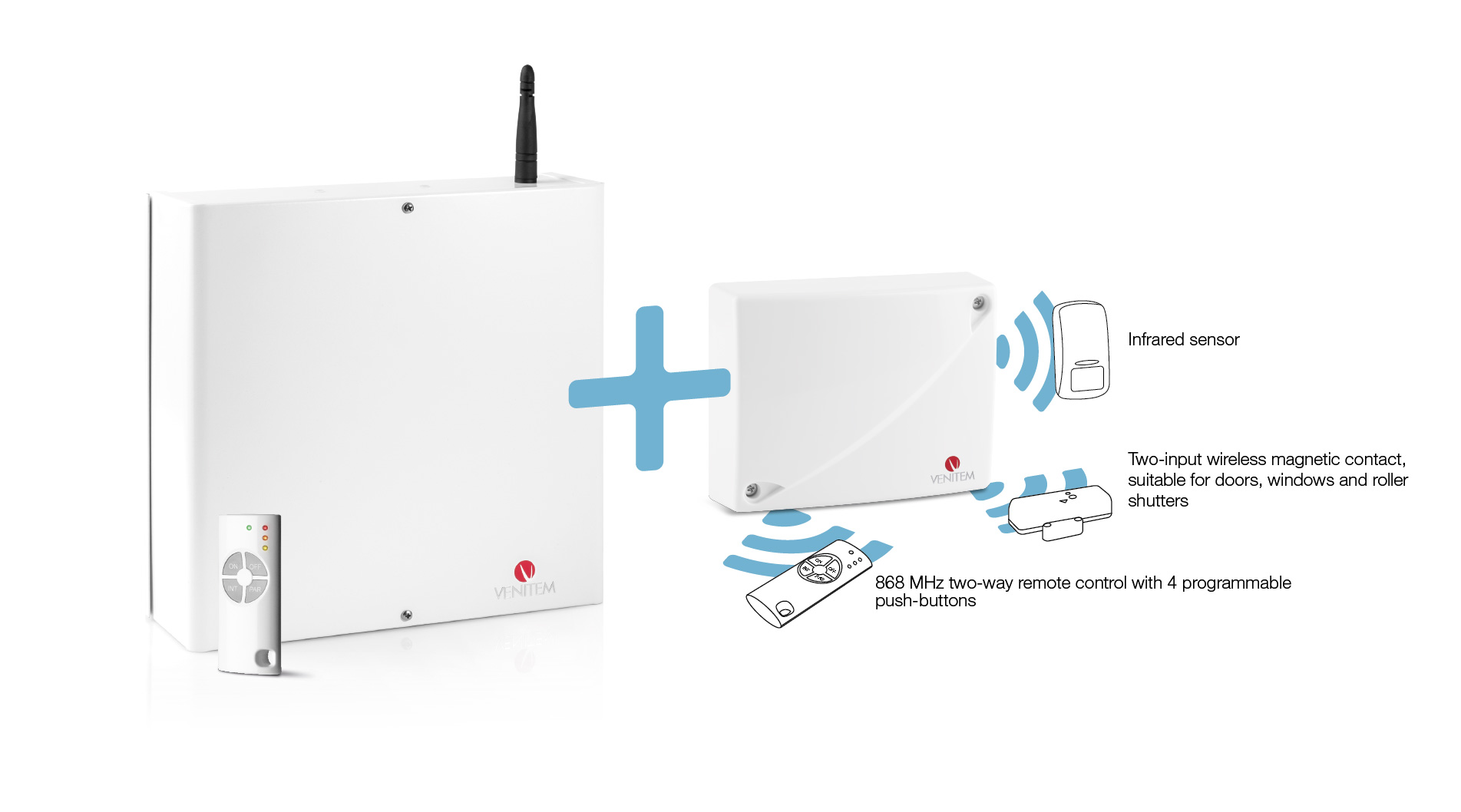 The wireless expansion module allows the user to set the control panel according to his needs, avoiding building modifications. V8-20 wireless system is based on two-way communication between devices and direct sequence spread spectrum (DSSS), leading communication to uncommon distances.
_
_
THE KEYPADS

Keypad with anomaly signaling LED and ON/OFF signaling LED. Elegant design, high quality painting and possibility to choose among different colours.
_
THE PROXIMITY TAGS

Ergonomic and functional proximity tags to choose the working mode of your alarm system; available in different colours.
_
CERTIFICATIONS
GSM compliance: EN 60950-1, ETSI EN 301 489-1, ETSI EN 301 489-7, ETSI EN 305 511
PSTN compliance: EN 60950-1
Grade: 1
FILES AND INSTALLATION SHEETS