Fire alarm installations, smoke and heat evacuation and control systems
TUL500EN is the additional 27,6 V 5 A power supply created to ensure autonomy to fire detection systems and smoke and heat evacuation and control systems (SHE).
It is composed of a foldback current limited switching power supply, a microcontroller supervisory circuit and auto-reset electronic fuses.
Constant monitoring of the functions and failure notification in case of: interrupted fuses – high battery voltage – low battery voltage – mains failure and missing battery recharge – disconnected battery – high battery resistance.
Failure notifications can be seen on the LEDs of the front panel and are signaled by dry relay contacts.
The device has 1 output for battery recharge and 3 independent outputs. Protection against polarity inversion and short circuits. Battery recharge circuit is temperature-compensated.
Electronic fuses for outputs protection. In the event of output- or battery short circuit, or in case of disconnected battery, the power supply is nevertheless able to supply current.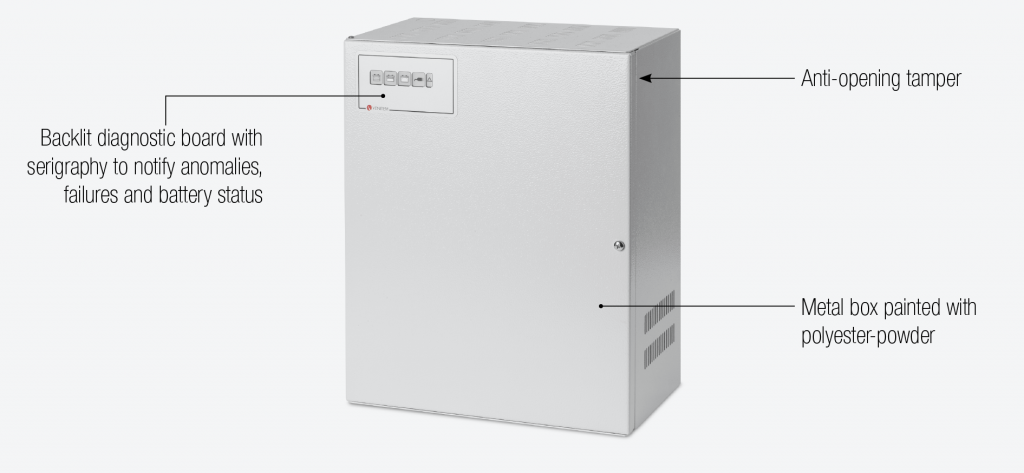 STRENGHTS
Immediate intervention: the power supply is always active. In case of 220V mains failure, batteries instantly supply power.

Periodic checks of: internal resistance and batteries efficiency for assessing their ageing process.

Functional class: A- the power supply is able to work with any type of smoke and heat evacuation and control system.

The possibility to install many power supplies for different lines increases reliability of the system.
APPLICATION EXAMPLES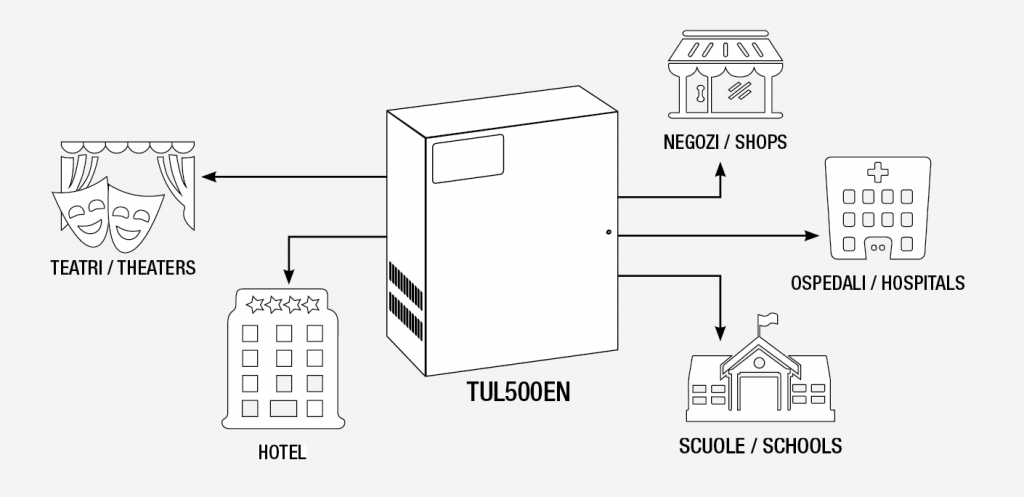 CERTIFICATIONS
EN 54-4:1997+A1:2002+A2:2006
(Fire detection and fire alarm systems. Part 4: Power supplies)
.
EN 12101-10:2005/AC:2007
(Smoke and heat evacuation systems. Part 10: Power supplies)
FILES AND INSTALLATION SHEETS